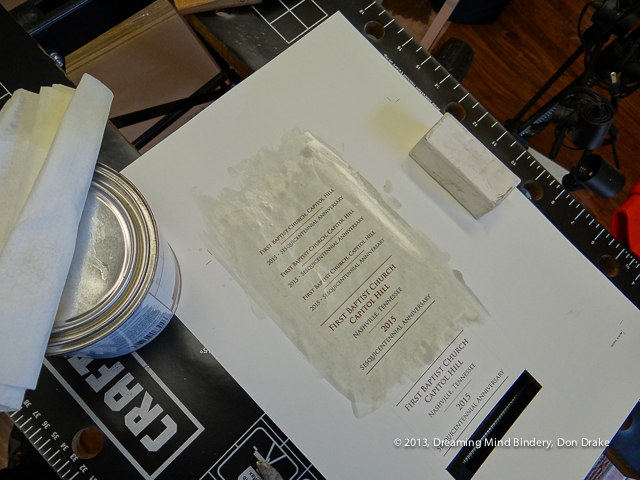 There are a wide variety of titling options for your project.
Stamping may be done directly on the cover material. Labels may also be used. This choice really opens up the range of techniques that might be used, and the range of designs that can be achieved.
Pictured here are paper labels that are being lacquered. This process will make the labels incredibly durable and change the appearance of the labels. Each kind of paper will respond to the lacquer differently which further extends the design possiblities.
These labels are for a guest book and sign-in station boards for a church celebrating their 150th anniversary. The sheet I used for the labels gets a nice, translucent, parchment look after its lacquered and this character seems very appropriate to the project.
Another approach to titling work is directly stamping the title or artwork into the leather using metal dies or handset type.
The stamping may be blind, meaning impresses directly into the leather or foiled, which uses heat to bond colored or metallic foil to the substrate. Both these variations are shown in this image.
This is my Kwikprint 86, which I use for 99.9% of all my stamping. I've found t's a piece of equipment that requires quite a bit of experience and finesse to use. Every different material and different foil performs differently. The stamping is generally one of the final steps and a failure or mistake means the loss of all the materials and all the labor.
This Kwikprint has a nice, big type holder so there have been very few times that the required lines of text or die wouldn't fit. But the larger the artwork, the more surface area. And this is a tool the depends on pulling a lever to exert the impression force. Pulling for a 1" by 1" image take x force to make a good impression. Pulling a 2" by 2" image will take 4x. It doesn't take long to exceed the possible force. And gauging the proper force depends on overall art size, art surface area, and the material being stamped. Then there's the heat and dwell time for different material/foil combinations.
All this means, if you want foil stamping for your project, there will be limits to what can be accomplished. It's best to discuss the project.
A Kwikprint 86 foil stamping machine
Lead type composed in the type-holder of a Kwikprint 86
Examples of mounted and unmounted magnesium dies for foil stamping
Detail of text that's been printed on cloth using block-printing ink and a magnesium die held in a hand stamping machine