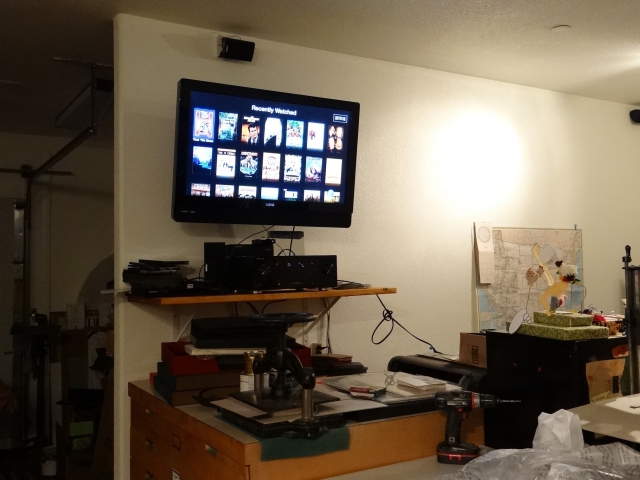 Gail and I were up in Oregon last weekend and her mom bought a new TV because of he extraordinarily BAD sound quality and the complete lack of any sound output jacks (what's up with that?). I snagged her old set and the wall mount to upgrade my system in the studio.
The other wall mount I had was rated for the size and weight of this new unit but had a single stem for the pivot and would limit the motion of this larger TV. So I went ahead and mounted the one I brought down which has a double arm and greater range of motion.
I haven't had a chance to test it out with the vids that have text content, but it's bound to be better.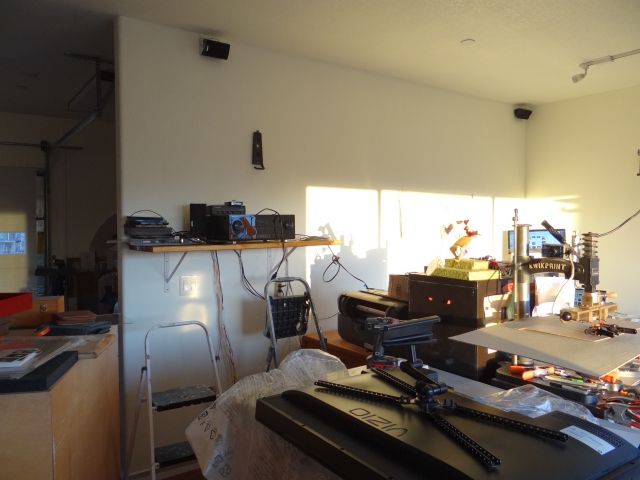 New wall mount for the larger TV
When I set the studio up in Aug 2012 I had this TV from my Dad's apartment. Later I got an AppleTV to drive it since I'd read that the computer would mirror to the screen wirelessly through that device. Turns out it has to be a very MODERN mac to do that and mine is going to be classed 'obsolete' by apple later this year.
Still, the wireless device has been useful. It gives me netflix (which my god son makes extensive use of), youtube (so I can show my uploaded videos for workshops and such) and streaming radio stations. Yeah RadioParadise!.
And AppleTV does give me an interface into my iTunes library so I can listen to the podcasts I subscribe to.
All told, the TV and the Apple device have been a useful and enjoyable addition. But a bit small when text is involved as in the case of screencasts of web development and coding processes.